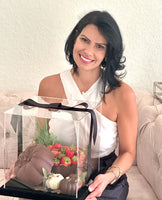 Get to know us...
The company Misses Sweet came from the love and passion that its founder Daniela Vezzi has for the cuisine of sweets and recipes from her Brazilian family. "My kitchen is a laboratory of emotions and tastes, I get recipes that bring a lot of affective memory and transform them into new creative and unique versions. It's my greatest pleasure when people I do not know send me messages saying they've never eaten something that good !! ". - Daniela Vezzi
What is a Brigadeiro?
The Brigadeiro is a delicious Brazilian chocolate dessert first created in Rio de Janeiro. Widely celebrated as a national icon, the original Brigadeiro recipe consists of condensed milk, butter, cocoa powder, and chocolate sprinkles. However, there are several Brigadeiro recipe variations throughout South America.
chocolate Brigadeiro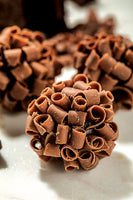 Testimonials
Recommend it with my eyes closed! All sweets are incredible and the customer service, best I've ever had.

Silvia V.
It has been two days I ate this sweets at my party and I haven't gotten over how delicious they are! Already want to order more!

Anna L.
The BEST. That's all I have to say.

Julian N.
I wasn't sure what to order so I decided to get the tasting because it comes with a large variety of sweets. OMG that really impressed me. I recommend it.

Author's name